CNC TOOL OPERATOR CERTIFICATION

Everything you need to know about CNC Tool Calibration
---
Dates to be announced
This Level I CNC Tool Calibration Certification is designed to take the beginner new to stone CNC and educate him/her using our award winning teaching system. You will walk away with practical knowledge of how to reduce set-up times, better maintain your tools, and improve the quality of all your edges. The class will consist of a two part breakdown focusing on both classroom theory of measuring and entering data, as well as hands-on calibration of newly measured tools sets out at the CNC machine.
---
Your Instructor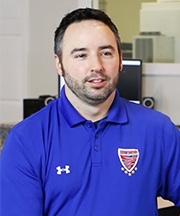 Eric Pate
• Technical Director of Terminator CNC Technologies
• Certified CNC Technician
• 2012 SFA Educator of the Year
---
You Will Learn:
• Proper Tool Assembly
• Measuring With Digital Calipers
• How CNC Machines View Tools
• The Relationship Between CAD/CAM Softwares
• How to Calibrate Tools
• How to Dress and Maintain Tools
---
Frequently Asked Questions

When & where does the Level 1 course start and end?

The Level 1 course will take place at the Terminator® CNC Training Center in Charlotte, NC. Classes start 8:30 AM and end 5:00 PM. Dates to be announced

How many students can be enrolled?
There is a limit of only 8 students who can enroll per course date. Enrolling as soon as possible is highly advised to reserve your seat.

How will my certificate be processed?

Upon successful completion of the course, and with a passing score of 80% total or more on the final exam, students will earn the title of "Terminator® Level 1 CNC Tool Operator". An official hardcopy certificate will be awarded.


Can I take this course online?

The Level 1 CNC Tool Operator Certification is only available inside the Terminator® CNC Training Center. The goal is to give the student a hands-on, non-distractive, object focused environment, that will lead to their skill set development of becoming a Certified Terminator® Level 1 CNC Tool Operator.

---
ALL CONTENT AND GRAPHICS WITHIN THIS DOCUMENT BELONG TO TERMINATOR® D.I.A. DIAMOND PRODUCTS. ALL RIGHTS RESERVED. TO USE ANY OR ALL OF THIS INFORMATION FOR YOUR COMPANY, PLEASE REQUEST PERMISSION BY CONTACTING US HERE.