7 Keys for Cutting Ultra-Compact and Sintered Porcelain Materials
by TERMINATOR® D.I.A. Diamond Products
Click here to download PDF version.

"I'm lost when it comes to cutting these new age materials, what can I do?"

This seems to be a question we get almost daily here at Terminator. And while many of our customers have been fabricating for years, these new materials can pose a challenge for even the most seasoned of sawyers.
After spending well over one year testing, re-testing, and communicating regularly with fabricators in the field, here are our 7 most important tips as you begin cutting ultra-compact and sintered porcelain materials.



1. Water
It may seem too simple or too intuitive to matter, but less than adequate water AND hoses positioned incorrectly is the most common error causing headaches among cutting these materials.
Fig. 1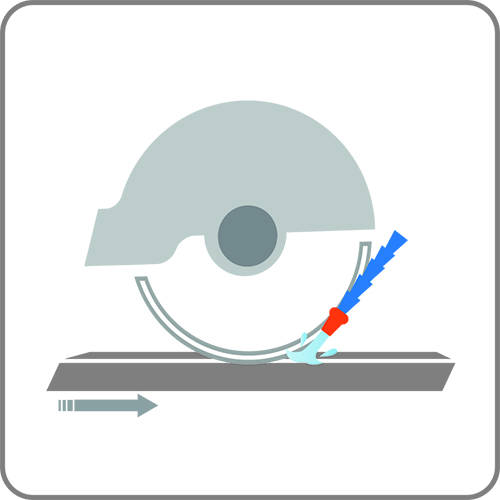 Solution
First, ensure that you have plenty of water running though your saw-system. Next, the graphic to the left indicates where EXACTLY you'll want to position your water hoses in order to cool the blade and aid the cut in the proper area. (See Figure 1)
---

2. Check your table level
One of the more overlooked aspects in successful cutting, to the degree that your table is not level in the horizontal plane, vibrations will occur. This unevenness can result in chipping and likely breaking the edge of your slab.
Fig. 2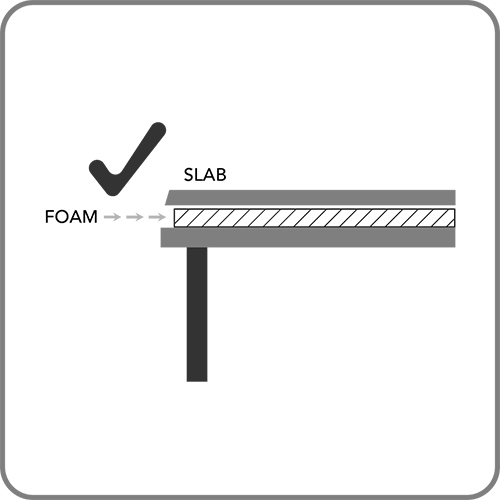 Solution
If your saw table is already level, you need not worry here. However, if it is not, head to your local large box hardware store and pick up some 1" to 1-1/2" thick, 4" x 8" long rigid installation sheet foam board. Place this sheet in between your saw table and slab to even the surface and absorb any unnecessary vibrations. (See Figure 2)
CLICK HERE to see the type of rigid sheet foam board we recommend.
---

3. Buy the right blade
As cliche as it may sound, choosing the right blade for the material you are processing is critical. After getting numerous phone calls from people having difficulty cutting ultra-compact and sintered porcelain materials, we can assure you that most people are simply not choosing the correct blade for this unique application.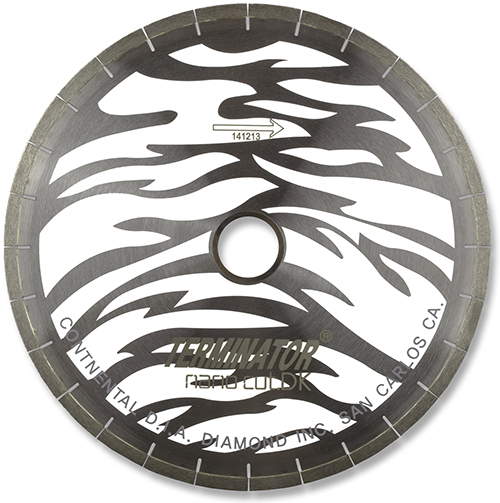 Solution
New age materials will often necessitate a using a dedicated blade for successful cutting of ultra-compact and sintered porcelain materials (i.e. one blade for granite and one for ultra-compact/sintered porcelain). At Terminator, we suggest our DK.B Bridge Saw Blade.




---

4. Removing tensioning strips
While each manufacture of ultra-compact and sintered porcelain materials may, or may not have tensioning strips built into the perimeters of each slab, if they are not removed prior to cutting, the slab is at higher risk of cracking or breaking.
Fig. 3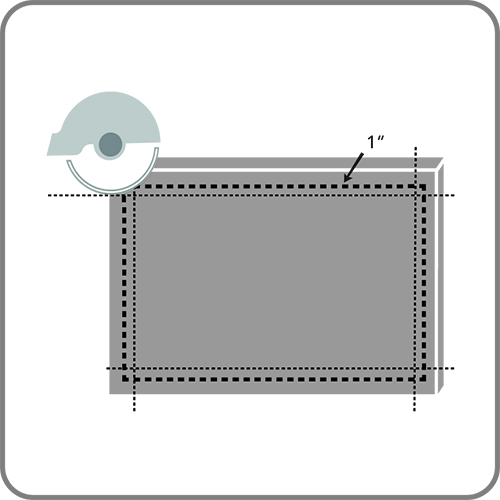 Solution
To be safe, we suggest cutting 1" inward around the entire the slab. This will ensure any tensioning strips (located at each boarder) have been removed, thus avoiding the risk of snapping your slab. (See Figure 3)








---

5. Feed rate and RPMs
Using the same feed rate and RPMs you may be accustomed to when cutting other materials can be a recipe for trouble. Unlike fabricating more common materials such as marble and granite, we've seen the most success cutting ultra-compact and sintered porcelain materials when following a systemized approach is used.
Solution
When using the Terminator DK.B Blade, here are our recommended feed rates and RPMs for both straight and miter cuts.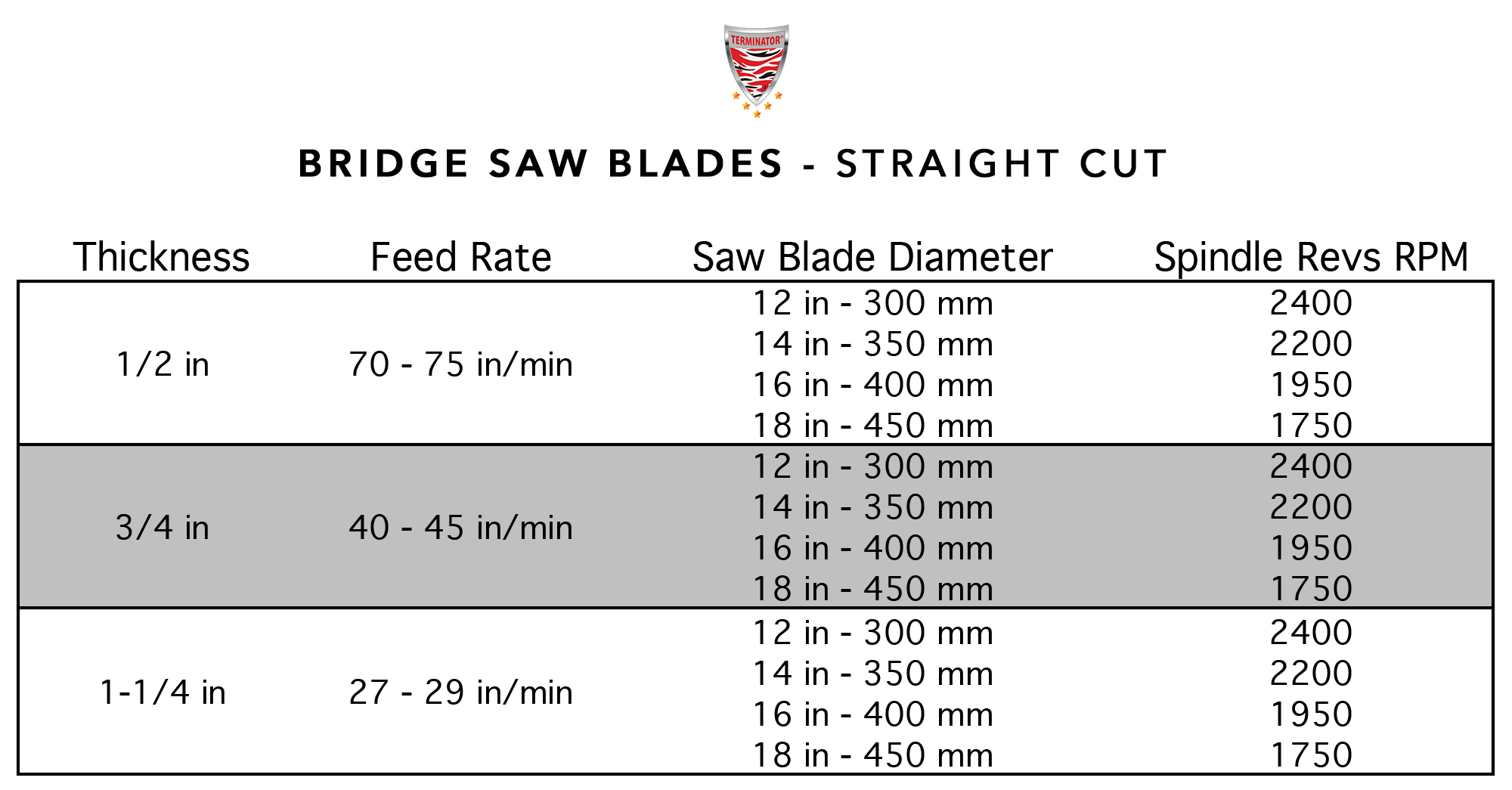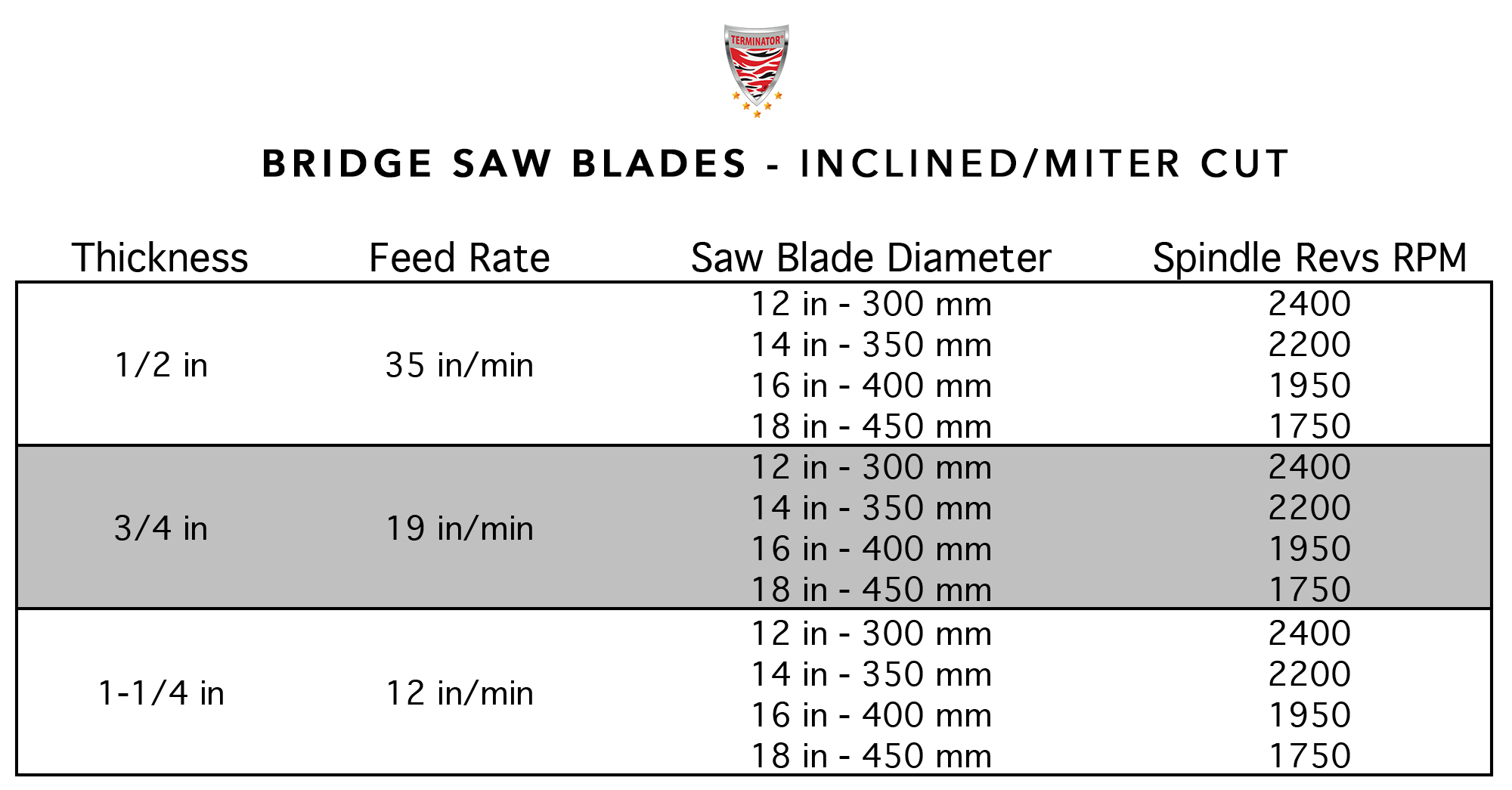 *If you have a fixed RPM saw, our best suggestion is to choose a diameter blade that is closest to what your saw operates at.

Here are some additional tips for ramping up and slowing down your feed rates throughout the cutting process.
On a 3/4" thick material straight cut:
Entrance: Reduce feed rate to 20"/min
Mid Cut: Ramp up feed rate to 40"/min
Exit: Reduce feed rate to 20"/min


---

6. Avoiding Plunging
While plunge cutting tends to be of little concern for most sawyers, when cutting ultra-compact and sintered porcelain materials it can pose big problems resulting in cracking or breaking your slab.
Fig. 4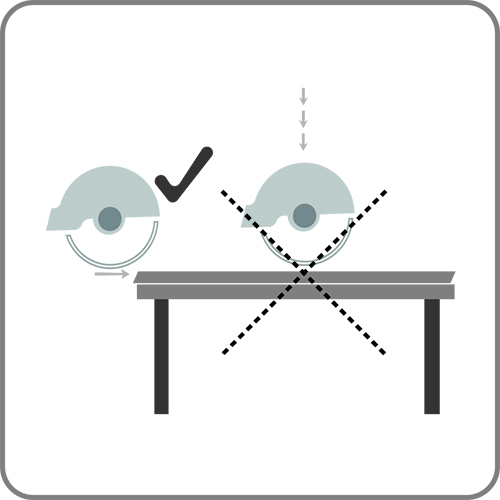 Solution
Avoid plunge cutting. Always start from the outside of the slab using the recommended feed rate tips above, and cut accordingly. Your boss will thank you. (See Figure 4)
---

7. Cutting Sinks
Projects requiring a sink cut-out can be an obstacle many fabricators dread. Since we already know plunging is not the ideal way to go about this, what are your options?
Fig. 5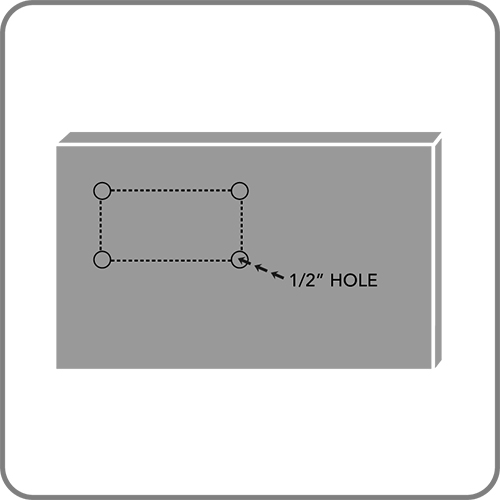 Solution
When preparing a sink cut-out, it is advised to drill each of the four corners with a 1/2" core bit prior to initiating cutting. (See Figure 5)



Common Ultra-compact and Sintered Porcelain Products:
Dekton by Cosentino
Neolith by The Size
Lapitec by Breton


---

Terminator® NanoCut.DK Products are designed specifically for new age materials:


We hope this article was beneficial for you and your shop. Please feel free to leave any comments and print this post.
Thank you for reading!
Team TERMINATOR® D.I.A. Diamond Products
---
ALL CONTENT AND GRAPHICS WITHIN THIS DOCUMENT BELONG TO TERMINATOR

® D.I.A.

DIAMOND PRODUCTS. ALL RIGHTS RESERVED.
TO USE ANY OR ALL OF THIS INFORMATION FOR YOUR COMPANY, PLEASE REQUEST PERMISSION BY CONTACTING US HERE.