CNC TOOL MAINTENANCE: WHEN, WHY, & HOW
Click here to skip to Part III
by TERMINATOR® D.I.A. Diamond Products



Part I
Tool maintenance is a critical aspect in achieving long term, consistent edges and maximizing your tooling investment. This three part article will help shed light on this topic and provide some excellent pointers related to tool dressing.

Why dress CNC tools?
Normally, during the useful life of a tool, diamonds will pop out in a predictable manner, allowing the material to abrade the bond and expose new diamonds. However, due to running tools improperly, or using low quality tools, diamonds can easily be polished over and lose their ability to grind the stone. The process of tool dressing stems from the need to rectify a profile's diamond matrix.
Common wear indicators include:
1. More pronounced lines in the stone
2. Un-even wear patterns in diamond tools.


Typically, when a diamond wheel is working properly, as its useful life continues, diamonds will fracture and fall out. This allows their metal encapsulating bonds to be abraded and expose new diamonds with sharp facets.
If the material does not provide the necessary abrasion for diamonds, they will become polished and "glazed-over." Additionally, sheering force from the material being removed, along with improper RPMs, can further acerbate premature diamond pop-out and result in the tool to not having enough diamonds to grind effectively. This will in-turn lead to the spindle's AMPs increasing unfavorably.
Two ways to solve this issue are:
1. Before tool damage occurs, prevent glazing by adjusting the tool's operating parameters for the type of material being profiled.

2. If the damage has already occurred, tool dressing should take place to provide proper abrasion and removal of the old bond layer, and to better expose new diamonds. Sometimes this can be quite difficult depending on the extent of damage that has taken place, or duration of time that the tool has been running improperly.
Examples of Improper Tool Maintenance

Developed Lines (Fig.A)
De-shaping (Fig.B)
Spindle Wear and Tear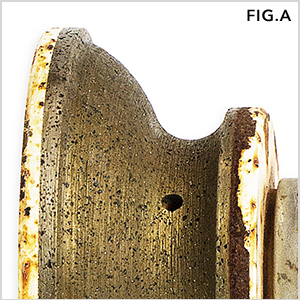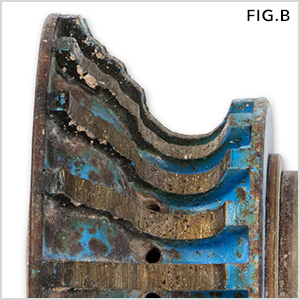 "When is the Best Time to Dress CNC Tools?"
Normal maintenance is the process of dressing CNC tools with respect to a calculated schedule. Regular maintenance will promote diamond sharpness and more uniform tool wear.

Terminator®'s recommended dressing schedule is every 500 linear feet
If the need arises to dress prior to the consecutive 500 linear foot recommendation, this usually stems from running extremely hard granite and natural quartzite materials.

In these instances, we recommend a quick dressing of all diamond profiles #1-4 and
spending a minimum of 10-15 seconds per diamond position.
Dressing Sticks
Terminator® offers four dressing sticks, each at designated grit sizes that correspond to a particular wheel number and/or degree of wear/damage. In next week's video these will be used to rectify worn tooling.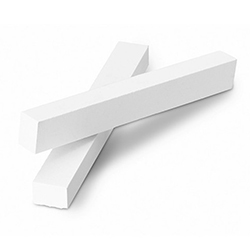 80 grit Silicone Carbide
120 grit Aluminum Oxide
240 grit Aluminum Oxide
320 grit Aluminum Oxide


Click here to order some today.
---

PART II
As a follow up to our Part I Article discussing the "When & Why" of CNC tool maintenance, now we'd like to dive into the important topic of exactly "How To" dress your tools.

In this video demonstration we cover:
- Key safety precautions
- Dressing stick positioning and ideal pressure
- Strategies for water and water placement
- Specific dressing stick grits corresponding to their profile positions
- CNC Machine parameters
- How to determine and troubleshoot if you've correctly dressed your tools


| POSITIONS | STARTING GRIT | FINISHING GRIT |
| --- | --- | --- |
| Diamond 1 | 80 Grit | N/A |
| Diamond 2 | 80 Grit | 120 Grit |
| Diamond 3 | 120 Grit | 240 Grit |
| Diamond 4 | 240 Grit | 320 Grit |
---
PART III
Now that you're familiar with how tools are traditionally dressed using your CNC machine, we would now like to introduce an excellent alternative.
Being that the time it takes to dress a set of tools properly is roughly 30-40 minutes, if you're someone who can't afford to stop production in order to maintain your tools, then offline dressing is your answer.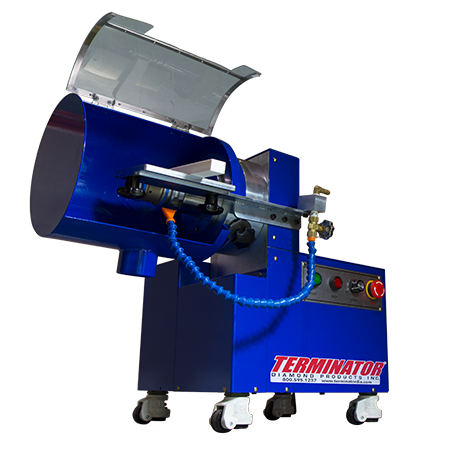 Some of the key features of the New Terminator Offline Dressing Machine are:


- Variable speed, 0-1,000 RPM
- Can be used wet or dry
- Ability to customize this machine to any cone type*
- Zero tolerance Spindle
- Adjustable, tilting tray for optimizing dressing
- Works with 40 taper tool holders, length up to 120mm
- Works with abrasive tooling up to 5" in diameter

* Breton HSK-63F require an additional charge


For a more complete, hands-on training that covers both CNC tool calibration and maintenance from start to finish, we have an excellent small group, CNC Tool Operator Level I Certification Course

Even those fabricators new to stone CNC will walk away having learned a system to reduce set-up times, better manage tools, and increase the quality of all their edges.

Click here or contact us to learn more — 800.595.1237 | training@terminatordia.com
Thank you for reading!
Team TERMINATOR® D.I.A. Diamond Products
---
ALL CONTENT AND GRAPHICS WITHIN THIS DOCUMENT BELONG TO TERMINATOR® D.I.A. DIAMOND PRODUCTS. ALL RIGHTS RESERVED. TO USE ANY OR ALL OF THIS INFORMATION FOR YOUR COMPANY, PLEASE REQUEST PERMISSION BY CONTACTING US HERE.